Philips Audio Recording Products in Seattle, WA
Offering trusted voice processing solutions since 1954, Efficiency, Inc., is happy to supply clients with a broad selection of products from top brands, including Philips. A leader in the dictation technology field, Phillips provides a high-end selection of cutting-edge speech technology and courtroom recording equipment in Seattle, WA, and beyond.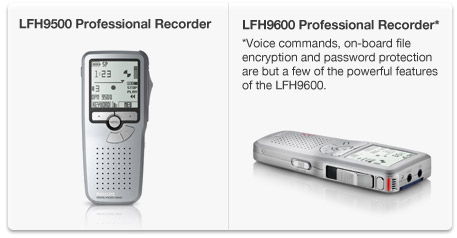 The Benefits of Philips' Dictation Products
Law firms and legal departments overwhelmingly choose Philips for municipal courtroom recording in Seattle, WA, and beyond. Understanding that legal professionals deal with significant amounts of documentation on a weekly basis, Phillips strives to lighten the load by offering cutting-edge dictation recorders and software. The goal is to reduce costs associated with document handling, while increasing productivity and profits.
Additionally, Philips products allow professionals to make the most of their time by enabling them to work on the go. Users can record and share dictations regardless of their physical location.


SOME OF THE BENEFITS WITH PHILIPS RECORDERS:
3D mic technology
Ergonomic slide switch
Integrated barcode scanner
Real-time file encryption
Pin lock
And more
One of best reasons to choose Philips for your legal work is that you can easily forward dictations to a work list, outside agency or speech recognition program. As a result, you won't be slowed down by long lag times and other delays.
Law firms aren't the only companies that rely on Philips dictation products to keep their businesses running. The products also support clients in the healthcare, finance, construction, journalism and law enforcement fields, among others.
Learn More About Philips' Quality Products
Philips products and software are designed to support an array of legal professionals at small firms and large corporations alike. Want to find out if Philips' dictation recorders are right for you? Call Efficiency, Inc., today at 206-768-2800 or request more information online.