Olympus Courtroom Monitoring Equipment in Seattle, WA
At Efficiency, Inc., we're passionate about supplying high-end documentation and courtroom monitoring equipment to Seattle, WA, businesses and industries. To that end, we proudly sell products by Olympus, a precision technology leader offering professional dictation solutions for companies in the medical, industrial, life science and law enforcement fields, among others.
Our goal is to provide the best solution at the best price for your voice application while ensuring you have the support you need to handle any issues that crop up with your police interview recording equipment.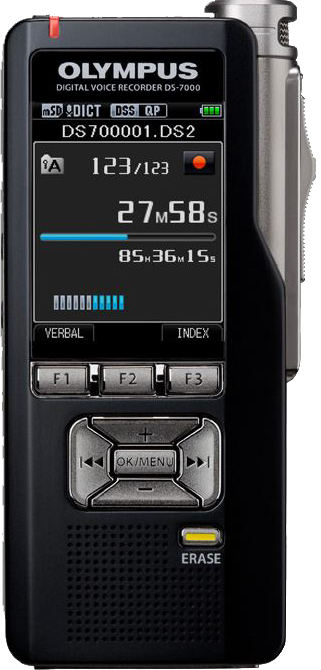 Trusted Solutions for Law Enforcement and More
Law enforcement officers play a crucial role in our society by keeping people safe from danger. With Olympus' professional dictation products, police and other professionals can accomplish this task more effectively while preventing important details from interviews and conversations from falling through the cracks.
Along with boasting impressive audio quality, these products integrate seamlessly with existing software. Additionally, these dictation systems are highly secure. Featuring 256-bit file encryption, PIN locking and other sophisticated safety features, Olympus voice recorders have what it takes to keep confidential information protected. If you need police interview recording equipment in Seattle, WA, don't hesitate to contact us for more information.
Law enforcement isn't the only industry that Olympus supports with its state-of-the-art product line. The company also provides high-end, custom solutions for law firms, healthcare businesses and offices. The goal is to generate detailed records faster while streamlining the transcription process by allowing for easy software integration.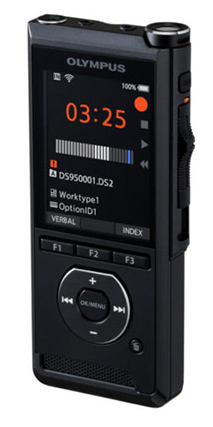 Features
WiFi Compatibility and LAN Connector Included
Managing workflow and sending dictation via WiFi accessibility provides increased flexibility and improved efficiency. Pairing with your personal hotspot or office network provides real-time file sharing with your transcriptionist. Status of transcriptions files can easily be checked on the DS-9500.
Crystal Clear Voice in Any Environment Using Intelligent Dual Microphones
Intelligent dual microphone technology ensures optimization for many different recording environments. For example in a noisy environment such as an airport, use narrow directionality to ensure the voice is accurately captured. For conference rooms with multiple individuals speaking, use a wide directionality setting recording to accurately capture all presenters.
Professional Quality Studio Recording Built-in
An included studio quality pop filter reduces additional noise from wind and breath noise, enabling more accurate transcription and professional, high-quality recordings
Shock Proof Body Improves Longevity
A reliable body design resistant up to a 1.5-meter (4.9-ft) fall dramatically enhances the lifespan of the DS-9500 in heavy use environments. An optical slide switch reduces risk of mechanical failure.
Additional Features
Alcohol wipe resistant body
256 bit file encryption with DSS Pro audio codec.
Directional Stereo Recording optimized for Conference settings
Olympus Dictation Management System Release 7 software included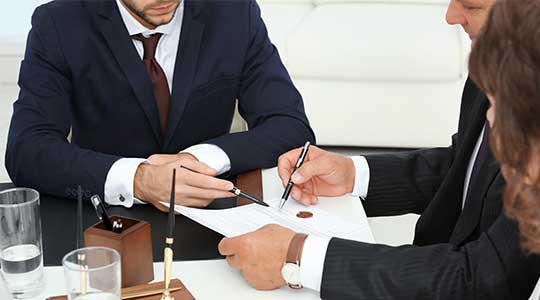 Contact Us for Info on Olympus' Products
Olympus creates innovative courtroom monitoring equipment and other optical and digital solutions with a goal of making people's lives better and safer. Want to learn more about the Olympus products available through Efficiency, Inc.? Call us today at 206-768-2800 or schedule a consultation online. We look forward to working with you. We also carry a line of Philips dictation devices and Dragon transcription machines, so get in touch now!